Kay International Pre-School in Bonn Bad Godesberg
Kay International Pre-School is a private full-day English kindergarten which provides a caring and stimulating environment for children aged 2.5 to 6 years of all nationalities and language backgrounds.
In our small age-specific learning groups of a maximum of 15 children we aim to extend the children`s vision beyond their self-perceived limits. Moreover, being an international school, we aim to foster the children`s interest in other cultures and languages so as to strengthen their social and intercultural competence in a globalised world. Our curriculum is based on the English National Curriculum for the Rearly Years Foundation Stages (EYFS) which also includes Montessori pedagogy of autonomous pro-active learning. Regular workshops and joint planning ensure a lively exchange of ideas and brain-storming between our native English pre-school educators.
We offer more than just good care! We offer the best possible educational support to each individual child at an early age when children`s learning potential is at its highest. Come and visit us anytime to feel the loving and caring atmosphere in our kindergarten.
Our Caterpillar programme fosters the social, emotional and cognitive development of our 3 and 4- year old pre-schoolers. Moreover, the children`s gross and fine motor skills are developed through music & movement and creative projects.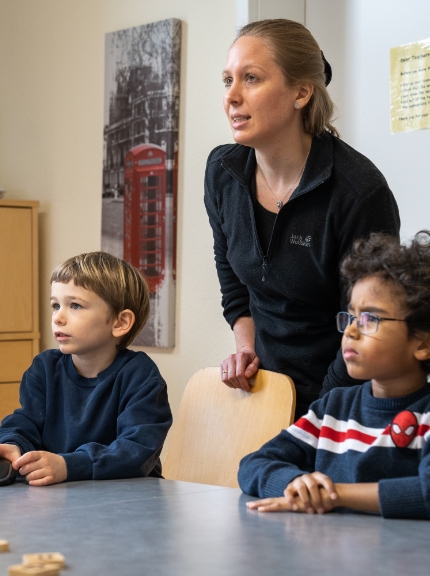 Our holistic pre-school programme prepares our 5 and 6 year old Butterflies emotionally and cognitively for methodical and didactic learning in elementary school.
All children are welcome here. We want to design our pre-school activities in such a way that every child - with or without physical or mental impaiment - feels comfortable with us. All our educators endevour to make inclusion come alive.
Pre-School

,

Sprachschule
Gegründet und betrieben von Expats, ist lamExpat Media die führende englischsprachige Medienplattform für Internationals in Deutschland, den Niederlanden und der Schweiz, Sie bietet aktuelle Informationen, Nachrichten, Jobangebote, Wohnun ...
Pre-School

,

Sprachschule
Founded and run by expats, lamExpat Media is the leading English-language media platform for internationals in Germany, the Netherlands and Switzerland, providing up-to-date information, news, job listings, housing services, events and lifes ...
On Wednesday, 17.11.2021, the online workshop "Water" took place in our kindergarten. The workshop was conducted by the AKNM ArbeitsKreisNeueMedien. In this workshop for preschoolers, children learn about the water cyc ...
-Wasser – wie sieht es aus, wo kommt es her, wie können wir Wasser schützen? Am Mittwoch, den 17.11.2021 fand in unserem Kindergart ...
Am Freitag, den 18.11.2022 findet der bundesweite Vorlesetag statt. Wir nehmen an dieser Veranstaltung teil! ...
Wir haben noch freie Plätze für das Kindergartenjahr 2023/2024. Suchen Sie noch kurzfristig einen Betreuungsplatz für Ihr Kind?< ...